Industrial Services
Profitability through optimisation of assets: Install. Monitor. Maintain.
Keeping your plant running and production flowing is our number one priority. Our team understand that fast fault finding and pinpoint problem solving is key. The longer the breakdown the greater the production lost. We aim to keep plant downtime to a minimum.
Heavy duty machinery used to manufacture, transport or process, needs constant monitoring and preventative maintenance to ensure long lasting operation and optimal profitability. Having electrical and mechanical tradesman that understand this concept is the building blocks of our maintenance team.
Our 25years + Experience with industrial engineering gives us the know how and skills needed to design, maintain or upgrade a wide variety of Electrical and Mechanical systems.
Electrical Motor, Protection and Control
An electric motor is an electrical machine that converts electrical energy into mechanical energy, by inducing electric current in a wire winding to generate force in the form of rotation of a shaft.
Machine Automation
Using market leading technology to ensure every detail of process can run without interruption. Without having to perform every action manually.
Lighting Systems
Cost effective, energy conserving lighting is the future. We design and install LED lighting systems tailor made for our customers.
Electrical & Mechanical Engineering
Better Installation, Better Operation, Better Control
With unwavering dedication and commitment to our customers and their values, we will strive to adapt and overcome all obstacles to obtain success.
Pumps
Transferring liquid from one place to another is an everyday occurrence in any industrial environment. We Maintain, Repair, Install and Supply pumps.
Water Filtration
Having clean water is essential to human wellbeing and the environment. From drinking to waste we can lend a hand.
Water Cooling or Heating
Water Temperature control is vital in a diverse range of processes. We service, maintain and repair.
Programmable Logic Control (PLC)
A Programmable logic controller (PLC) is an industrial computer control system that continuously monitors the state of input devices and makes decisions based upon a custom program to control the state of output devices.
Relay Logic Systems
A relay logic circuit is an electrical network consisting of lines, or rungs, in which each line or rung must have continuity to enable the output device.
Most industrial machinery has some form of relay logic circuit to make it work. To list a few components in this massive range of control system.
Ventilation
Ventilating a plant or an Electrical cabinet to cool down or heat up can be done by means of extraction or induction fans.
Keeping dust out of electrical panels is vital to ensure optimal and long living operation of electrical equipment inside the cabinet.
Full Electrical /Mechanical Site Survey:
Prevention cost less than Reaction. Understanding what you have and how it works can reduce downtime.
Thermal Audits, Electrical component checks, and plant Condition Monitoring.
Our highly trained Thermal imaging analysis team and condition monitoring experts is focused on finding fires before they happen. Friction and loose electrical connections create heat and improper airflow prevents much needed cooling. All these factors can be monitored, maintained and repaired before resulting in major damage to expensive equipment, through our Condition Monitor Program and Scheduled Preventative Maintenance or PM system.
Thermal Imaging

Find Hot Connections

Identify Fire Hazards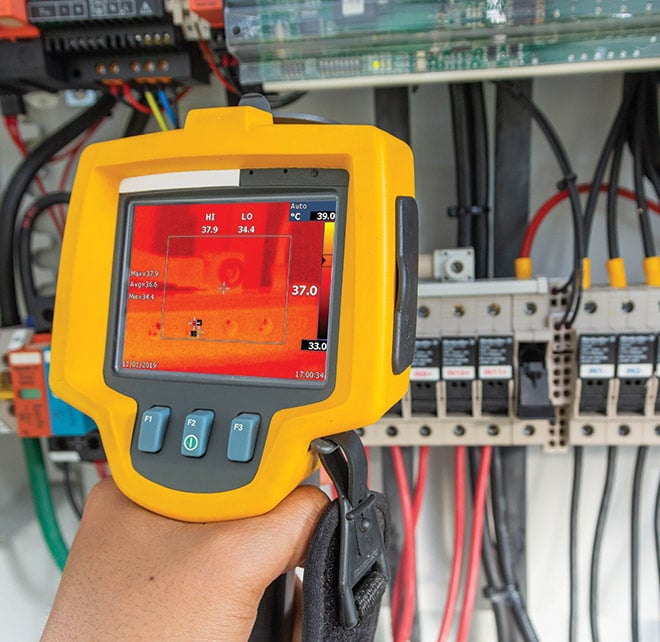 Mechanical fitting
Mechanical/Plant Fitting is a field of mechanical engineering that deals with the maintenance of machines. The key aspect is to understand the interchangeability of mechanical parts. All machine parts are manufactured in such a manner that they are within an acceptable limit of tolerance.
Instrumentation
Instrumentation deals with the science of process control, it mainly uses analog systems to fine tune valves or probes in level or pressure systems.
General Electrical
Any equipment that needs electricity to function and that is not listed in one of the options above falls into our general electric category. We offer the following general services, if it is not listed please feel free to contact us to get an assessment scheduled.
3 Phase and single-phase systems
Three-phase electric power is a common method of alternating current electric power generation, transmission, and distribution.
It is a type of polyphase system and is the most common method used by electrical grids worldwide to transfer power.
It is also used to power large motors and other heavy loads.
A three-wire three-phase circuit is usually more economical than an equivalent two-wire single-phase circuit at the same line to ground voltage because it uses less conductor material to transmit a given amount of electrical power.
Single-phase electric power is the distribution of alternating current electric power using a system in which all the voltages of the supply vary in unison. Single-phase distribution is used when loads are mostly lighting and heating, with few large electric motors. A single-phase supply connected to an alternating current electric motor does not produce a rotating magnetic field; single-phase motors need additional circuits for starting (capacitor start motor)
Looking For

Better Installation - Better Operation - Better Control?